Heinz and Cadbury Created Creme Egg Mayo, and We Truly Never Thought We'd See the Day
...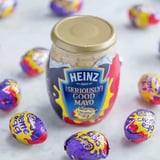 In what initially seemed like a prank – seriously, it was announced on April Fools' Day – Heinz and Cadbury have inexplicably teamed up to release Creme Egg Mayo. To really break it down, that's a mayonnaise spread blended with fondant and chocolate – evidently just the thing for people who prefer their sandwiches to have a slightly sweet aftertaste! (Hey, we're not here to judge.)
The beguiling food hybrid is actually meant to celebrate the 150th anniversary of Heinz this year, and thus, it will only be around for a limited time and only in the UK, since Cadbury is a British brand, after all. Ahead, see photos of the food hybrid we never thought we'd witness.
Source link